2022 / Foro Polanco
Citibanamex presenta Frida Tickets
Events
8/18/22

México, DF

Foro Polanco

Citibanamex presenta Frida

8/19/22

México, DF

Foro Polanco

Citibanamex presenta Frida

8/20/22

México, DF

Foro Polanco

Citibanamex presenta Frida

8/21/22

México, DF

Foro Polanco

Citibanamex presenta Frida

8/23/22

México, DF

Foro Polanco

Citibanamex presenta Frida

8/24/22

México, DF

Foro Polanco

Citibanamex presenta Frida

8/25/22

México, DF

Foro Polanco

Citibanamex presenta Frida

8/26/22

México, DF

Foro Polanco

Citibanamex presenta Frida

8/27/22

México, DF

Foro Polanco

Citibanamex presenta Frida

8/28/22

México, DF

Foro Polanco

Citibanamex presenta Frida

8/30/22

México, DF

Foro Polanco

Citibanamex presenta Frida

8/31/22

México, DF

Foro Polanco

Citibanamex presenta Frida

9/1/22

México, DF

Foro Polanco

Citibanamex presenta Frida

9/2/22

México, DF

Foro Polanco

Citibanamex presenta Frida

9/3/22

México, DF

Foro Polanco

Citibanamex presenta Frida

9/4/22

México, DF

Foro Polanco

Citibanamex presenta Frida

9/6/22

México, DF

Foro Polanco

Citibanamex presenta Frida

9/7/22

México, DF

Foro Polanco

Citibanamex presenta Frida

9/8/22

México, DF

Foro Polanco

Citibanamex presenta Frida

9/9/22

México, DF

Foro Polanco

Citibanamex presenta Frida
Experience
App
DOWNLOAD THE APP AND ENJOY THE EXPERIENCE TO THE FULLEST
The Frida app is the perfect companion for the experience. With it you will learn details and stories about the art works by syncing your device to the audio and visuals of the experience. The app is available in English and Spanish.
About
Frida, now waiting for you at Foro Polanco
The first immersive experience created and produced in Mexico where you will discover paintings become alive as you listen to extracts from Frida's journal and correspondence. You'll explore different spaces, each one based on different aspects involving her spirit: from an intimate and creative Frida, to a playful and friendly Frida. We work in collaboration with the Kahlo family, to whom we are deeply grateful for their support and trust.
Totally immersive experience
Projections on walls and floor
850m2 of exhibition space
Projections Up to 7 meters high
1600m2 of projections
2 interactive zones
More than 80 projectors
The immersive experience music was created by several talented Mexican women. An orchestra of female musicians from Oaxaca improvised music for every piece of Frida's artwork.

Hours: Tuesday to Sunday. We have 10 daily performances from 10 am to 7 pm, starting every hour; if you enter in the middle of the performance, you will be able to stay to experience the beginning of the next cycle.
Duration: 45 minutes. Open to people of all ages
Accessibility
Everyone is welcome to Frida Immersive Experience.
The venue offers facilities for assistants with motor disabilities. Guests will find friendly spaces for people using wheelchairs, crutches, strollers and their companions.
Please send your comments, suggestions and questions to the e-mail:
fridainmersiva@cie-e.mx

SANITARY MEASURES COVID-19
 The safety of our audience is our top priority at the experience. 
We are excited to welcome you to the Frida Immersive experience under all the safety measures pertaining Covid-19 safety so that your visit is as enjoyable as it can be.
Mandatory face mask
Temperature check upon entry
Sanitizer stations
Fresh air ventilation system
Constant facility sanitization
News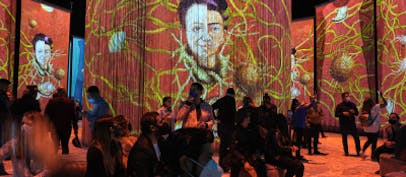 Frida Kahlo exhibition brings her work alive
People attend the inauguration of the exhibition "Frida, the immersive experience" in Mexico City on July 6, 2021. (AFP/Claudio Cruz)
FAQS
Tuesday to Sunday. We have 10 daily performances from 10 am to 7 pm, starting every hour; if you enter in the middle of the performance, you will be able to stay to experience the beginning of the next cycle.

Foro Polanco. Av. Moliere 328, Polanco II Secc. Miguel Hidalgo, CDMX

If you purchased via Ticket Fast or a digital ticket you just need to present your QR code in your smartphone upon entry. If you purchased via Will Call you need to pick them at the box office.

Yes at the Foro Polanco box office.

Approximately 45 minutes.

You don't need a guide, the experience is designed so that you may walk around as you please. We recommend you download the app in order to enjoy the experience to the fullest.

There are several options around Foro Polanco. You may consider some shopping center parking lots such as El Palacio de Hierro, Antara Fashion Hall or Miyana Polanco. Otherwise, you can leave your car on nearby streets with parking meters.

If they are 3 years or older they need a ticket

You can access with either but we encourage you to leave big bags or packages at home.

Animals are not allowed at the experience.

Yes is for the whole family.

App Store and Play Store. It's available in both Spanish and English.

Please find an employee from the experience in order to provide you assistance. If you are no longer at the experience please contact us at 55-5406-9368.

Only the curtain walls, please refrain from touching the solid walls.

Photography and filming is allowed and encouraged. But professional equipment, selfie sticks and tripods are prohibited.

Mandatory face mask.
Limited entry.
Temperature check upon entry.
Sanitizer stations.
Fresh air ventilation system.
Constant exhibition sanitization.
Keep 6 feet between each other while inside the experience.