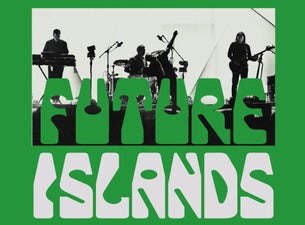 Rock and Pop
Future Islands Tickets
Events
9/22/2022

México, DF

Pabellón del Palacio de los Deportes

Future Islands

9/23/2022

Zapopan, JAL

Guanamor Teatro Estudio

Future Islands
About
FUTURE ISLANDS IN CONCERT:

Synthpop darlings Futures Islands are masters of the kind of soaring, nostalgia-soaked anthems that are forever indebted to the '80s. That's not to say their music is stuck in a bygone decade -- frontman Sam Herring avoids the pitfalls of retro rehash with his tender, soulful vocals, and the band's twinkling synths and crisp drums are as oriented to the future as they are to the past. This is music that charges blissfully ahead to a driving beat, and the band's energy always keeps pace as they tear through buoyant tracks like "Balance" and "A Dream of You and Me" on their must-see tours.

BACKGROUND SNAPSHOT:

Future Islands was formed in 2006 by a group of students from East Carolina University in Greenville, NC. After several early releases that included an EP and a split CD with Moss of Aura, the band released their 2008 full-length debut Wave Like Home on London's Upset the Rhythm label. Following the album's release the band relocated to Baltimore, where they recorded their 2010 sophomore album In Evening Air. The album received glowing praise from critics, leading to extensive touring throughout the US and Europe. 2014 was a year of firsts for the band -- in addition to cracking the charts in both the US and the UK with their fourth album Singles, the band made their first public TV appearances with performances on The Late Show with David Letterman and Jimmy Kimmel Live! Back on the road the band will treat ticket buyers to another round of exceptional live shows.

FANS WHO BOUGHT TICKETS SAY:

"Future Islands never fails to impress. Samuel puts on a great show and feels the jams. Great show."

"The music was on point. There was plenty of dancing and a lot of romantic energy in the room. The lead singer knows how to put on a show, keeping the crowd involved the whole time."

"HIGH ENERGY. You get every penny's worth... and the merch was cheap, too! Bonus. These guys are GREAT live. Do not miss them."