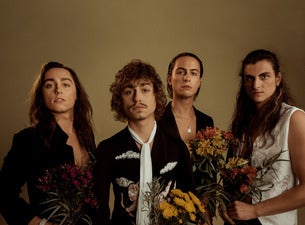 Rock y Pop
Boletos para Greta Van Fleet
Eventos
México
No hay eventos próximos en México
No te preocupes, hay otros eventos disponibles para ti
Eventos internacionales
43 evento(s)
1/10/2022

Allentown, PA, United States Of America

PPL Center

Greta Van Fleet - Dreams In Gold Tour 2022

4/10/2022

Manchester, NH, United States Of America

SNHU Arena

Greta Van Fleet - Dreams In Gold Tour 2022

5/10/2022

Albany, NY, United States Of America

MVP Arena

Greta Van Fleet - Dreams In Gold Tour 2022

7/10/2022

Uncasville, CT, United States Of America

Mohegan Sun Arena

Greta Van Fleet - Dreams In Gold Tour 2022

8/10/2022

Bangor, ME, United States Of America

Cross Insurance Center

Greta Van Fleet - Dreams In Gold Tour 2022

18/10/2022

Raleigh, NC, United States Of America

PNC Arena

Greta Van Fleet - Dreams In Gold Tour 2022

19/10/2022

Greenville, SC, United States Of America

Bon Secours Wellness Arena

Greta Van Fleet - Dreams In Gold Tour 2022

21/10/2022

Jacksonville, FL, United States Of America

VyStar Veterans Memorial Arena

Greta Van Fleet - Dreams In Gold Tour 2022

22/10/2022

Estero, FL, United States Of America

Hertz Arena

Greta Van Fleet - Dreams In Gold Tour 2022

25/10/2022

Hollywood, FL, United States Of America

Hard Rock Live

Greta Van Fleet - Dreams In Gold Tour 2022

26/10/2022

Tampa, FL, United States Of America

Amalie Arena

Greta Van Fleet - Dreams In Gold Tour 2022

28/10/2022

Charlotte, NC, United States Of America

Spectrum Center

Greta Van Fleet - Dreams In Gold Tour 2022

29/10/2022

Birmingham, AL, United States Of America

Legacy Arena at The BJCC

Greta Van Fleet - Dreams In Gold Tour 2022

1/11/2022

New Orleans, LA, United States Of America

Smoothie King Center

Greta Van Fleet - Dreams In Gold Tour 2022

2/11/2022

North Little Rock, AR, United States Of America

Simmons Bank Arena

Greta Van Fleet - Dreams In Gold Tour 2022

4/11/2022

Oklahoma City, OK, United States Of America

Paycom Center

Greta Van Fleet - Dreams In Gold Tour 2022

5/11/2022

San Antonio, TX, United States Of America

AT&T Center

Greta Van Fleet - Dreams In Gold Tour 2022

8/11/2022

El Paso, TX, United States Of America

Don Haskins Center

Greta Van Fleet - Dreams In Gold Tour 2022

9/11/2022

Tucson, AZ, United States Of America

Tucson Arena

Greta Van Fleet - Dreams In Gold Tour 2022

11/11/2022

Anaheim, CA, United States Of America

Honda Center

Greta Van Fleet - Dreams In Gold Tour 2022
Acerca de
La banda de rock n roll originaria de Michigan, Gretta Van Fleet, anuncia hoy su tan esperada llegada a México
 "Nos encanta hacer música y nos encantan los shows, pero nunca esperábamos nada como la atención que nos han dado", explicó el bajista Sam Kiszka sobre la última gira de la banda. "Estamos realmente honrados por la respuesta que hemos recibido, y estamos muy emocionados de volver a estar de gira y tocar para nuestros fans".
 Después de estallar en 2017 con la dupla de éxitos #1 ("Highway Tune" y "Safari Song"), el grupo recibió elogios de músicos como Robert Plant y Elton John mientras ofrecían conciertos con entradas agotadas en Norteamérica y Europa, así como con sets en Coachella, Lollapalooza y otros grandes festivales.
 La banda nació en Frankenmuth, Michigan, en 2012. Pronto atrajeron el interés del público y de la crítica especializada, primero con su disco en vivo Greta Van Fleet: Live en Detroit en 2014, y luego con su EP debut, Black Smoke Rising, en abril de 2017. El grupo voló aún más alto cuando el popular sencillo "Highway Tune" se incluyó en la serie de Televisión "Shameless", y para 2018 la banda aparecía en todo, desde The Tonight Show con Jimmy Fallon hasta la Fiesta de Premios de la Academia de Elton John.
 Ahora, con su primer álbum de estudio "Anthem of the Peaceful Army" (lanzado a principios de este mes) es el momento de que los hermanos Josh, Sam y Jake Kiszka y su viejo amigo Danny Wager visiten México por primera vez, donde su estilo cautivador se encontrará a una de las multitudes más amorosas y apasionadas del mundo, una combinación perfecta.