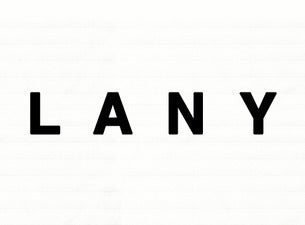 Events
10/22/22

México, DF

Auditorio BB

LANY

10/22/22

México, DF

Auditorio BB

LANY Paquete Experiencia Diamond Club

10/22/22

México, DF

Auditorio BB

Lany Paquete Experiencia Golden

10/23/22

México, DF

Auditorio BB

LANY

10/23/22

México, DF

Auditorio BB

LANY Paquete Experiencia Diamond Club

10/23/22

México, DF

Auditorio BB

Lany Paquete Experiencia Golden
International Events
25 Events
8/9/22

Milwaukee , WI, United States Of America

BMO Harris Pavilion

Lany: Summer Forever Tour

8/12/22

Sterling Heights, MI, United States Of America

Michigan Lottery Amphitheatre at Freedom Hill

Lany: Summer Forever Tour

8/13/22

Cincinnati, OH, United States Of America

The Andrew J Brady Music Center

Lany: Summer Forever Tour

8/16/22

Bridgeport, CT, United States Of America

Hartford HealthCare Amphitheater

Lany: Summer Forever Tour

8/17/22

Philadelphia, PA, United States Of America

Skyline Stage at the Mann

LANY - Upgrades & Extras

8/17/22

Philadelphia, PA, United States Of America

Skyline Stage at the Mann

Lany: Summer Forever Tour

8/19/22

Harrisburg, PA, United States Of America

Harrisburg University at Riverfront Park

Lany: Summer Forever Tour

8/20/22

Asbury Park, NJ, United States Of America

Stone Pony Summer Stage

Lany: Summer Forever Tour

8/21/22

Boston, MA, United States Of America

Leader Bank Pavilion

LANY - Upgrades & Extras

8/21/22

Boston, MA, United States Of America

Leader Bank Pavilion

Lany: Summer Forever Tour

8/24/22

Charlottesville, VA, United States Of America

Ting Pavilion

Lany: Summer Forever Tour

8/25/22

Atlanta, GA, United States Of America

Cadence Bank Amphitheatre at Chastain Park

LANY - Upgrades & Extras

8/25/22

Atlanta, GA, United States Of America

Cadence Bank Amphitheatre at Chastain Park

Lany: Summer Forever Tour

8/27/22

Orlando, FL, United States Of America

Orlando Amphitheater at the Central Florida Fair

Lany: Summer Forever Tour
About
LANY IN CONCERT:

Alternative trio LANY is fast on the rise thanks to their killer combination of smooth R&B-influenced vocals, glossy '80s pop beats, and nostalgic synths and guitars. At their dance-worthy shows the band realizes their slick electronic tracks with phenomenal live musicianship, giving an energetic live feel to studio productions like "4EVER!" and "Where the Hell Are My Friends". Frontman Paul Klein is a commanding performer, delivering his emotional lyrics with unbridled passion while picking out soaring lead guitar riffs on his trusty electric. With Les Priest holding it down on bass and keys and drummer Jake Goss recreating the band's intricate drum machine beats on a real kit, LANY turns out a powerful live show that showcases the phenomenal musicianship behind their stylish pop sound.

BACKGROUND SNAPSHOT:

Klein, Priest, and Goss were little more than former school friends before a fateful jam session inspired them to start writing songs together. After posting their first two tracks "Walk Away" and "Hot Lights" to Soundcloud, the group started building a fan base online. Buzz surrounding the band continued to grow throughout 2015 as they released their popular EPs I Loved You and Make Out, and in October of that year they signed with Polydor Records. LANY has opened for major acts like Halsey and Oh Wonder, and graced the pages of Wonderland and Nylon magazines. With a new EP released this summer and the forthcoming headline tour in the fall, 2016 is an exciting year for the Los Angeles based trio.