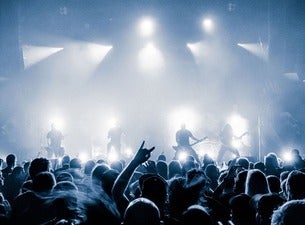 Rock/Metal
Boletos para Meshuggah
Eventos
México
No hay eventos próximos en México
No te preocupes, hay otros eventos disponibles para ti
Eventos internacionales
10 evento(s)
18/9/2022

New York, NY, United States Of America

Manhattan Center Hammerstein Ballroom

WSOU Presents MESHUGGAH

20/9/2022

Silver Spring, MD, United States Of America

The Fillmore Silver Spring

Meshuggah

22/9/2022

Louisville, KY, United States Of America

Kentucky Expo Center

Louder Than Life

2/10/2022

Denver, CO, United States Of America

Fillmore Auditorium (Denver)

Meshuggah

6/10/2022

Sacramento, CA, United States Of America

Discovery Park

Aftershock

8/10/2022

Riverside, CA, United States Of America

Riverside Municipal Auditorium

Meshuggah

9/10/2022

Hollywood, CA, United States Of America

Hollywood Palladium

Meshuggah

15/10/2022

Orlando, FL, United States Of America

Hard Rock Live Orlando

Meshuggah

16/10/2022

Atlanta, GA, United States Of America

Tabernacle

Meshuggah

16/10/2022

Atlanta, GA, United States Of America

Tabernacle

Meshuggah - MOVED TO TABERNACLE
Acerca de
"One of the ten most important hard and heavy bands" that's how the prestigious Rolling Stone Magazine describes Swedish sonic extremists MESHUGGAH.

It is impossible to talk about experimental or avantgarde metal without mentioning this truly groundbreaking act: MESHUGGAH mix ultra-complicated rhythmic patterns with massive riffs and aggressive growls, combining Death Metal, Mathcore, Thrash and Progressive Metal to create their unique style.

"ObZen" is their newest offering and one thing is for sure: expect the unexpected. You could say that "ObZen" is some sort of a best of album with fresh, new songs - but that's only half the truth. "ObZen" is once again a masterpiece of diversity and surprises.

While the last album, "Catch Thirtythree" sounded like a gloomy lava realm of subconcious terror, "ObZen" is big buttkick. Some parts are still slo mo-groove infernos, but others, like the opener "Combustion" are high speed-massacres like the band never did before. Pure technical asskicking mayhem!

Even though it seemed not to be possible, MESHUGGAH once again improved their musical skills - do no try this at home, as you simply might burst into tears. MESHUGGAH reached a non-human level with this one... but to be honest: That's exactly what we hoped for. And "ObZen" is everything but a disappointment...

The band only released classic albums since their debut in 1991, but it's not wrong to say, that "ObZen" is their most mature and, yes, best album up to date. Talking in platitudes, you say? Well, it's a fact. And let's go even further: "Dancers To A Discordant System", a 9-minute epic, is probably the most artful song the band ever recorded. "Bleed" as an antithesis the most unstraight straight song you'll ever hear. "ObZen" simply bashes your mind over and over again.

Get your headphones, take some time off and listen to "ObZen" over and over again. It's a trip, it's an offering - it's paradise!