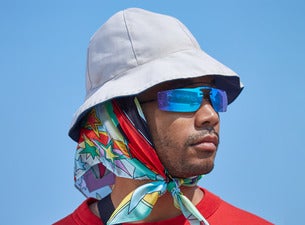 Rock y Pop
Boletos para Toro y Moi
Eventos
México
No hay eventos próximos en México
No te preocupes, hay otros eventos disponibles para ti
Eventos internacionales
4 evento(s)
20/7/2022

Boston, MA, United States Of America

House of Blues Boston

Toro y Moi

21/7/2022

Philadelphia, PA, United States Of America

The Fillmore Philadelphia

Toro y Moi

5/8/2022

Denver, CO, United States Of America

The Junk Yard

Vortex

3/9/2022

Philadelphia, PA, United States Of America

Ben Franklin Parkway

Made in America Festival
Acerca de
TORO Y MOI IN CONCERT:
Chillwave producer extraordinaire Toro y Moi, aka Chazwick Bradley Bundick, transforms every venue he plays into a funky wonderland with his slick, dance-worthy productions. Whether he's playing guitar or keyboards, Bundick's swirling effects and highly rhytmic productions envelope audiences in an immersive, undeniable groove. His gliding falsetto provides a boyish innocence to his earnestly crafted songs, and even though his lyrics cover personal topics like heartbreak and remorse, he keeps the vibe upbeat by anchoring each song in pumping beats and groove-heavy flourishes. Toro y Moi. On tour in support of his 2015 album What For?, Toro y Moi will bring his laid-back, dance-friendly brand of atmospheric electro-funk to fans across the country.
BACKGROUND SNAPSHOT:
Chazwick Bradley Bundick was born in 1986 in Columbia, SC, where he formed the indie rock band The Heist and The Accomplice while in high school. After graduating from the University of South Carolina in 2009, he quickly signed to Carpark Records and released Toro y Moi's 2010 debut album Causers of This. The immaculately produced record earned rave reviews and generated enough buzz to land him opening spots for in-demand artists like Caribou and Phoenix. The following year he released his sophomore album Underneath the Pine, a stellar release that showcased his commitment to live instrumentation. On his third album, 2013's Anything in Return, Toro y Moi combined the sample-heavy approach of his first record with the live feel of his second effort, and the new direction paid off. The album represented a major breakthrough for him, earning massive praise and leading his first headlining tour and an appearance on Jimmy Kimmel Live! Toro y Moi's 2015 album What For? and accompanying tour dates have fans excited to catch Bundick's funky rhythms and masterful sonic textures in concert.