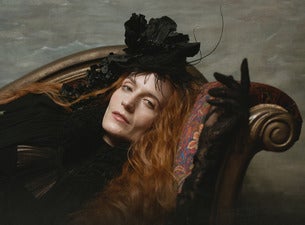 Rock y Pop
Boletos para Florence + The Machine
Eventos
México
No hay eventos próximos en México
No te preocupes, hay otros eventos disponibles para ti
Eventos internacionales
22 evento(s)
7/9/2022

Chicago, IL, United States Of America

Huntington Bank Pavilion at Northerly Island

Florence + the Machine - Dance Fever Tour

8/9/2022

Saint Paul, MN, United States Of America

Xcel Energy Center

Florence + the Machine - Dance Fever Tour

10/9/2022

Clarkston, MI, United States Of America

Pine Knob Music Theatre

Florence + the Machine - Dance Fever Tour

12/9/2022

Washington, DC, United States Of America

Capital One Arena

Florence + the Machine - Dance Fever Tour

14/9/2022

Boston, MA, United States Of America

TD Garden

Florence + the Machine - Dance Fever Tour

16/9/2022

New York, NY, United States Of America

Madison Square Garden

Florence + the Machine - Dance Fever Tour

17/9/2022

New York, NY, United States Of America

Madison Square Garden

Florence + the Machine - Dance Fever Tour

20/9/2022

Nashville, TN, United States Of America

Ascend Amphitheater

Florence + the Machine - Dance Fever Tour

21/9/2022

Alpharetta, GA, United States Of America

Ameris Bank Amphitheatre

Florence + the Machine - Dance Fever Tour

23/9/2022

Orlando, FL, United States Of America

Amway Center

Florence + the Machine - Dance Fever Tour

24/9/2022

Miami, FL, United States Of America

FTX Arena

Florence + the Machine - Dance Fever Tour

27/9/2022

Austin, TX, United States Of America

Moody Center ATX

Florence + the Machine - Dance Fever Tour

28/9/2022

Irving, TX, United States Of America

The Pavilion at Toyota Music Factory

Florence + The Machine - Upgrades & Extras

28/9/2022

Irving, TX, United States Of America

The Pavilion at Toyota Music Factory

Florence + the Machine - Dance Fever Tour

1/10/2022

Denver, CO, United States Of America

Ball Arena

Club Level Seating: Florence + The Machine

1/10/2022

Denver, CO, United States Of America

Ball Arena

Florence + the Machine - Dance Fever Tour

6/10/2022

Seattle, WA, United States Of America

Climate Pledge Arena

Florence + the Machine - Dance Fever Tour

7/10/2022

Portland, OR, United States Of America

Moda Center

Florence + the Machine - Dance Fever Tour

9/10/2022

Mountain View, CA, United States Of America

Shoreline Amphitheatre

Florence + the Machine - Dance Fever Tour

12/10/2022

San Diego, CA, United States Of America

Cal Coast Credit Union Open Air Theatre at SDSU

Florence + the Machine - Dance Fever Tour
Acerca de
Florence + the Machine anuncia hoy que el 'High As Hope Tour' llegará a México con tres conciertos: primero, actuará el 15 de junio en el Palacio de los Deportes de la Ciudad de México, luego viajará a Guadalajara para actuar al día siguiente en Auditorio Telmex y por último, pero no menos importante, el 18 de junio en el Auditorio Citibanamex de Monterrey.
 El último álbum de Florence + the Machine, 'High As Hope', se lanzó el pasado mes de junio en Virgin EMI, y llegó de la mano del impactante video del primer sencillo 'Hunger', mientras que Florence también regresó a los escenarios en vivo con shows íntimos en Reino Unido y Estados Unidos.
 Su cuarto álbum "High As Hope" tiene desde ya, la sensación de ser un momento definitivo en la carrera de Florence, aventurándose en un nuevo territorio, al mismo tiempo que retoma sus raíces. Uno de sus conciertos recientes en el Royal Festival Hall de Londres, fue calificado con reseñas de 5 estrellas; en ese show Florence también interpretó nuevos materiales por primera vez, siendo catalogado como "uno de los espectáculos más emocionantes del año" por The Times; "el eufórico regreso de un talento singular " por The Telegraph; "una imponente intérprete regresa con un twist de poder y poesía" por el Evening Standard.