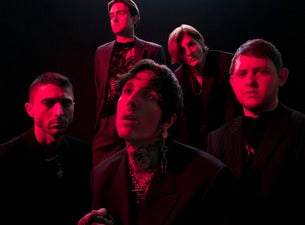 Rock y Pop
Boletos para Bring Me the Horizon
Eventos
México
No hay eventos próximos en México
No te preocupes, hay otros eventos disponibles para ti
Eventos internacionales
19 evento(s)
15/9/2022

Louisville, KY, United States Of America

Kentucky Expo Center

Exacta Pass

22/9/2022

Louisville, KY, United States Of America

Kentucky Expo Center

Louder Than Life

24/9/2022

Brooklyn, NY, United States Of America

Barclays Center

Bring Me the Horizon

27/9/2022

Alpharetta, GA, United States Of America

Ameris Bank Amphitheatre

Rock 100.5 Presents Bring Me The Horizon

28/9/2022

Nashville, TN, United States Of America

Nashville Municipal Auditorium

Bring Me the Horizon

30/9/2022

Orlando, FL, United States Of America

Addition Financial Arena

Bring Me the Horizon

3/10/2022

Houston, TX, United States Of America

713 Music Hall

Bring Me the Horizon

6/10/2022

Sacramento, CA, United States Of America

Discovery Park

Aftershock

6/10/2022

Inglewood, CA, United States Of America

Kia Forum

106.7 KROQ Presents: Bring Me The Horizon

7/10/2022

Phoenix, AZ, United States Of America

Arizona Federal Theatre

Bring Me the Horizon

12/10/2022

Minneapolis, MN, United States Of America

Armory

Bring Me the Horizon

14/10/2022

Chicago, IL, United States Of America

Wintrust Arena

Bring Me the Horizon

15/10/2022

Sterling Heights, MI, United States Of America

Michigan Lottery Amphitheatre at Freedom Hill

Bring Me the Horizon

16/10/2022

Moon Township, PA, United States Of America

UPMC Events Center

Bring Me the Horizon

18/10/2022

Irving, TX, United States Of America

The Pavilion at Toyota Music Factory

Bring Me the Horizon

18/10/2022

Irving, TX, United States Of America

The Pavilion at Toyota Music Factory

Bring Me The Horizon - Upgrades & Extras

20/10/2022

Denver, CO, United States Of America

Fillmore Auditorium (Denver)

Bring Me the Horizon

22/10/2022

Las Vegas, NV, United States Of America

Las Vegas Festival Grounds

When We Were Young

29/10/2022

Las Vegas, NV, United States Of America

Las Vegas Festival Grounds

When We Were Young
Acerca de
BRING ME THE HORIZON have announced their eagerly awaited return to Australian shores for this coming September. The British rock band will perform arenas around Australia on their first tour Down Under since 2013.
Since the release of their fifth and most diverse album, That's The Spirit, in September 2015, Bring Me The Horizon have become one of the hottest tickets in rock music, selling out arena shows across the world. The album has been a critical and commercial success, with esteemed publications like Kerrang, Rock Sound and Alternative Press giving the record full marks. That's The Spirit debuted at #2 on the UK and US Album charts, #1 in Australia and has been certified Gold in both the UK and Australia. 
Tickets for That's The Spirit Australian Tour go on sale at 10am Wednesday, February 24. 
BRING ME THE HORIZON are in no way strangers to the Australian market. Since 2006, they have made the country a staple in their worldwide touring plot, last appearing via a sold out 2013 headline tour in support of their smash hit Sempiternal album. And the Australian fans have returned the love – That's The Spirit was their third consecutive #1 album in the ARIA Charts, and was voted the #1 album of 2015 by Blunt magazine readers. Five months on from the release, the record is still sitting in the ARIA Top 50 albums.
The band was originally scheduled to appear as one of the headliner acts on Soundwave 2016. Since the cancellation of the festival, the band has promised its fans a return trip as soon as possible. The announcement is sure to be a huge hit with fans - dates are expected to sell quickly.